Your Tagaytay Dream Home: Wind Residences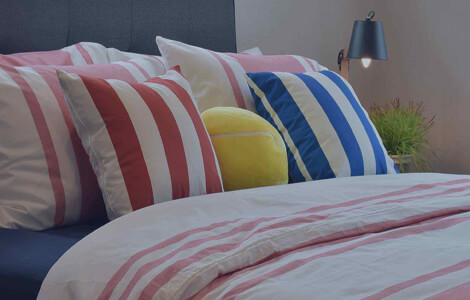 Can you imagine waking up every day to a cool weather, a sight of captivating views, and unmistakable serenity in the comforts of your home? Your dream home in Tagaytay is now a reality with Wind Residences! Everyone cannot resist the distinct beauty of Tagaytay City as it greatly exceeds one's expectations with the highest standards of living. This is your escapade away from the scorching heat of the metropolis' weather. Being one of the banner projects of SMDC, Wind Residences lives up to its reputation as it will wind you up to a much better disposition in life with its remarkable offers.

Inviting Sceneries and Strategic Location
Wind Residences is strategically located along Aguinaldo Highway, Barangay Maharlika West, Tagaytay City bringing you closer to nature and is just a one hour drive away from Manila. It's like getting the best of both worlds as you enjoy the perks of being in a paradise but still being in close proximity to other main cities. Did you know that there is a 30 meters gap between Wind Residences from the streets? That's how much the project provides you the fresher views and a spacious environment where you can just take a breather and be at peace. You will highly appreciate the out of the ordinary sceneries you will get to witness everyday by your windows. Facing north, the city of Manila is a radiant sight with its tallest buildings on a landscape. When you are glancing by the West, the incredible mountains of Batangas will wipe away all your stress. The Palace in the Sky can also be found in the West as if you are taken to new heights. Last but not the least, the magnificent views of the famous Lake Taal will astound you every time when you enjoy the views on the south. How powerful it must be to be surrounded by such amazing views. The place is truly a gem!

Wide Options for Greater Living Standards
The whole project of Wind Residences will keep on surprising you with its 5 spiraling towers consisting of 20 floors each. They are called Rushmore, Mckinley, Aspen, Everest, and Olympus. The good news is that four of these towers are already built with basic completion. Rushmore Tower, on the other hand, is already fully furnished and almost ready for occupancy. The towers are individually built with unique themes and modern designs. For your information, each tower has about 600-800 residential units and over 100 parking lots as well. 3 elevators are also available for the residents in every tower for a more convenient stay. You will be marveled when you enter the units because they are already finished with basic flooring giving you the vibes of a five-star hotel living. The place is also nicely done with polished granite tiles then intricately painted for an easier moving in for residents.

Nearby Attractions to Suit Your Needs
Tagaytay is not only well-known because of its cold weather but also with its must-visit parks, churches and food places. Luckily, Wind Residences will mesmerize you with the easy access you have to reach those destinations. Calaruega, being one of the most visited churches in the place because of its lush greeneries and captivating views, is just a 20-minute drive from Wind Residences. For the welfare of your kids, various prominent schools such as Mater Dei Academy, Tagaytay City National High School, and Metro Tagaytay College are just also nearby. In case of emergencies, Tagaytay Hospital and Medical Center is just less than 10 minutes away from the vicinity. How convenient will all of that be, right?

Amenities Extending Your Highest Expectations to Infinity
Wind Residences made sure that when they speak of excellence, they finish it from top to bottom. That is why one of the most important features a resident considers are the jaw-dropping amenities they offer. From a distance, the buildings' façade will make you look twice because of its alluring structures and designs. As you enter, The Grand Lobby is basically the equivalent of luxury as it caters well to guests and invites a comfortable ambiance. The Sky Lounge is a dream come true for those people who greatly take pleasure in the panoramic views of Tagaytay. It will be exhilarating to get the 360 degrees view of the whole city of Tagaytay, Laguna de Bay and Metro Manila to fully appreciate the beauty of the mentioned places. While the cold weather suggests snuggling into bed, it the Swimming Pool will lure you in due to its relaxing benefits to your body. Related to your health, you will definitely get that fitness goal you've been aiming for given the Basketball Court and Badminton Court available for all the residents of Wind Residences. You can easily invite your family and friends to enjoy a friendly game and sweat out every now and then. For special events, a Clubhouse is also a privilege you can enjoy and make use of to make the most out of your stay at Wind Residences. Other perks also include the Game Room, Recreational Area, Playground Area, Gardens and Jogging Paths for that complete Wind Residences experience. Not only that! A commercial strip is also available on the ground floor for you to have an easy access with your needs. You can find a lot of retails shops, restaurants and much-needed services in that area. Some of the notable establishments within the commercial strip are SM Hypermarket, SM Appliance Center, and ACE Hardware. More exciting stores will be added so watch out and try them out firsthand by inquiring at SMDC's Wind Residences today.
It must have blown you away given the undeniably amazing offers that Wind Residences has for you. Your weekend drives to Tagaytay can suddenly be a daily experience when you invest at Wind Residences. Be ahead of the game and let the winds whisper to you the wisest decision for you to settle. It's time to settle now at Wind Residences!